Being an Arizona girl, and a lover of the southwest, I have always loved Tee-Pee's, wigwams, feathers, Kachina dolls, dream catchers and pow-wow's because of the time I spent on the Navajo and Apache reservations growing up. When these things became trendy I was a little miffed. And if you were to ask Matt, he'd tell you I have a minor obsession defending them when people pull the alcoholic stereotype card. It drives me insane!! Meaning he uses it often to get me crazy.
However, I found Tnee's Tpee's on Instagram via a giveaway or sponsorship or something like that, and I thought they were adorable. I ordered mine late last year when Juniper was just a few months old. It sat decoratively until the last month or so, because now that she is crawling, she loves to play in it. It also doubles as a great way to hide her accumulating piles of stuffed and fluffed toys. Gah, I know I had a lot too, but it's excessive and she hasn't even been on the planet for a year yet.
It keeps her entertained in her room long enough to change out a load of laundry and maybe pee? Which is basically a lifetime in parent years. Now if I started locking her in her room… that's frowned upon no? I also use it for a non advertised use, ambient lighting. At night I have her Cloud b Twilight Constellation Night Light courtesy of her Uncle Danny, that I place in the teepee and it glows stars all over the surface, without covering her 4 walls with too much light. It peeks out the top as well. Let this be known, it's not for her, it's for me so that I don't murder myself in the blackness trying to leave her room.
Anyway! Courtney makes some brilliant products! She was super sweet and when I messaged her to tell her I'd like the Natural teepee and the colors in the nursery were yellow, gray, teal etc, she suggested a few fabrics she had on hand and I chose a great yellow fabric with little cotton fluff puffs on it. It fits perfectly and I am really looking forward to taking it outside this summer. MELT snow MELT! It had personalized little touches like the burned in logo on one of the poles. Love.
I also ordered one of her growth charts at the same time so she combined shipping and was so great to work with. I'll save that post for um, when she is standing solo and I can measure her on it. For now it's still in the bubble wrap.
Take a look at these, it's fun, playful, practical for toy hiding and I want one in every color! Visit her shop like now!
Now to convince Matt we need an indoor and an outdoor one… Yep!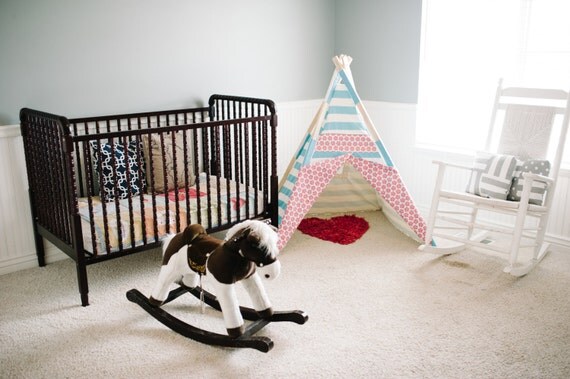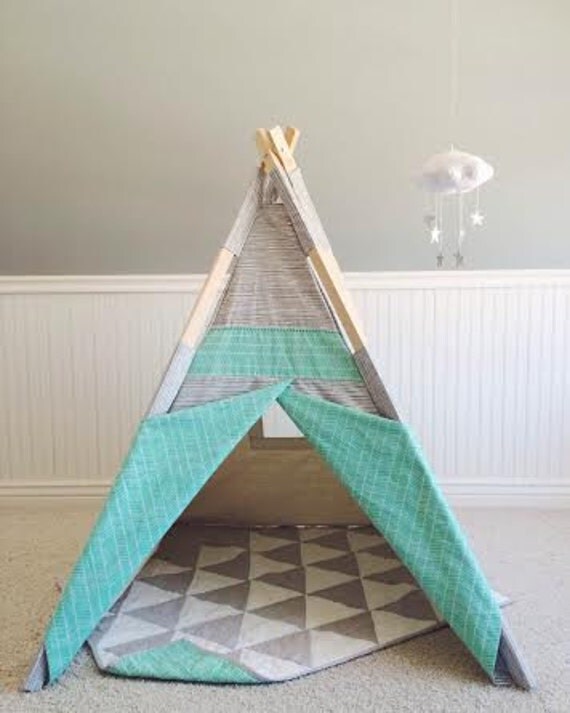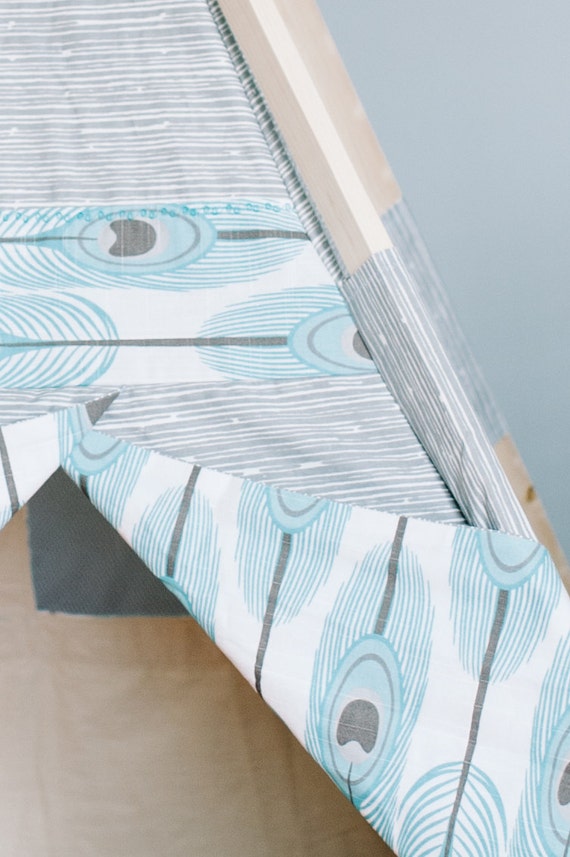 Thanks Courtney, I am a true fan.